Certified National Women's Business Enterprise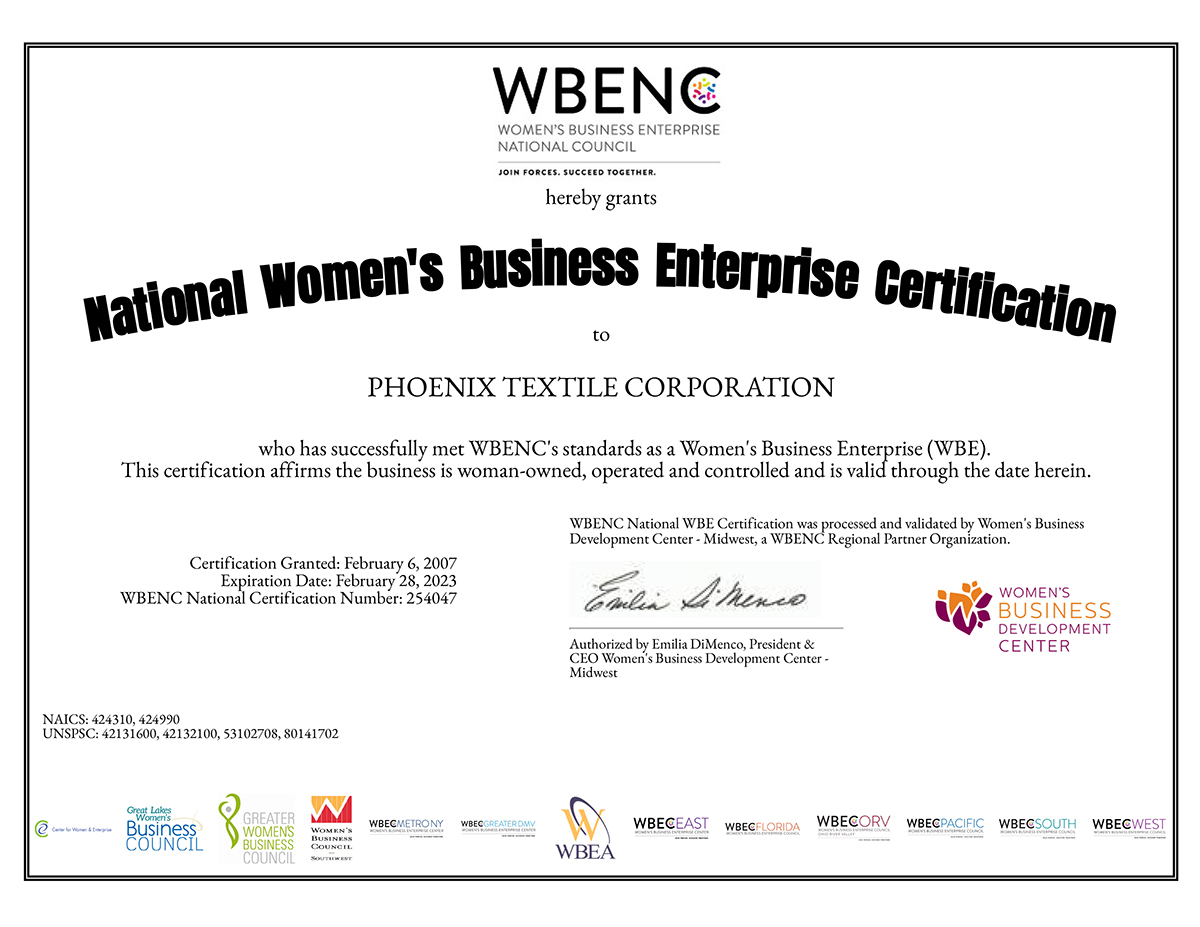 Award-Winning Diversity Supplier
Phoenix Textile Corporation, a full-service textile contract manufacturer and distributor located in St. Louis, Missouri, began serving the healthcare and hospitality market in 1983. As a certified women-owned business enterprise competing against larger distributors, we recognize the competitive difficulties presented to small businesses. When we began our company, mills were reluctant to extend business and customers were apprehensive to "try a newcomer". We overcame these obstacles and, as we celebrate 40 years of unsurpassed service to the healthcare market, we have renewed our commitment to proving that diversity does not mean lesser quality, higher cost, or reduced service. We have streamlined our supply chain, formed vendor partnerships with other small businesses to offer better value to our customers, increased our online presence with additional products and services, and added new field representatives to provide hands-on knowledge and support to our customers. Most importantly we continue to listen to our customers and respond efficiently to their needs.
Diversity In Our Supply Chain
At Phoenix Textile, we believe that an inclusive business environment and a diverse supplier base foster collaboration that leads to product innovation, better customer service, and increased opportunities. We actively seek out diverse suppliers that can provide competitive, high-quality goods and services while at the same time aligning with our customer's business strategy. It is our mission to proactively identify, build relationships with, and purchase goods & services from certified small businesses and enterprises owned by minorities, women, veterans, and disabled persons. As a WBE company, Phoenix Textile works directly with our customers to meet and exceed their supplier diversity goals. This has allowed us to build long-term vendor/supplier partnerships that create maximum value for the customers we are proud to serve.

Learning from the knowledge and experience of our larger partners, we have established programs with other small businesses to open the doors to large contracts and through our teaming agreements have pursued increasingly larger opportunities with mutual success. We have sought veteran businesses and implemented several joint venture arrangements, as well as contracted purchases. We have sought minority business owners and established contracted services and pass-through opportunities. We have done the same with other women-owned businesses. Phoenix Textile mentors diverse suppliers to be solution experts for the core areas of our business as well as our non-traditional and emerging lines. We are proud of the strong relationships we have built with our suppliers, many of whom have been working with us for years.